By Yashy Murphy, Parenting to Go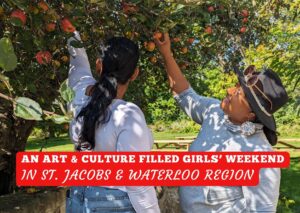 If you're looking for a fall road trip with your Ontario girlfriends and would like to insert yourself into a town where you'll  meet local artists and surround yourselves in art and history, then I have just the suggestion! A friend of mine joined me last week for a culture packed weekend in the Waterloo Region where we roamed around Elmira, Village of St. Jacobs and Kitchener. Share this with your art loving friends and get ready for fall vibes and countryside charm on a girls weekend in St. Jacobs.
To read the FULL BLOG POST, please CLICK HERE.