By Lindsay Davies, I've Been Bit Travel
Surrounded by beautiful forests and plenty of natural wonders, Thunder Bay is an underrated travel destination. It might be quite the trek from Southern Ontario but it's worth the long haul to get there. With plenty of fun for all ages, the whole family will love these Thunder Bay activities!
*NOTE: Due to developments with COVID-19, hours of operation and offerings can change without notice. Be sure to double-check availability with each attraction to avoid disappointment!*
Immerse Yourself in History at the Fort William Historical Park
It's one of the most popular Thunder Bay attractions  – and for good reason! The Fort William Historical Park is one of the largest living museums in North America. Take a guided tour of this fur trade post to get a glimpse of what life was like back in 1816 at the height of the fur trade era. Important players like John McLoughlin are brought to life thanks to costumed actors who will certainly leave an impression! Enjoy exploring the grounds and be sure to take a peek inside the Apothecary, the Canoe Shed and the Great Hall. Don't forget to climb the steps of the Observation Tower for the best views of the fort! Oh and keep an eye out for Mr Taitt or you might find yourself spending some time in jail…
Don't miss our coupon for 2 for 1 admission to Fort William!
Chase a Waterfall or Two
One of the big reasons visitors head to Thunder Bay is to explore the natural wonders abound in Northwestern Ontario. There are a number of waterfalls to chase – including the "Niagara of the North", Kakabeka Falls! A 30 minute drive outside of the city, it's a great spot to take the family for some quality nature time. Kids of all ages will love the views of the waterfall from the accessible boardwalk. Make a day of it and check out a few of the other trails or even spend a night camping under the stars!
If you're looking for something within the city, Trowbridge Falls is the perfect spot. Kids will love it as when the Current River is in low flow, it's a great local swimming hole to cool off in on those hot summer days! If this isn't enough, you can pair it with Centennial Park since it's close by. Here you'll find playground equipment, a logging museum and plenty of farm animals to make friends with. Top it off with some great hiking and skiing trails, it's a fabulous family destination all year round.
Mine For Semi-Precious Stones
Did you know that Ontario's official gemstone is the amethyst? How about that Thunder Bay is located in the heart of amethyst country? The north shore of Lake Superior is a treasure trove of these purple gems. Many stores in the area sell beautifully crafted items including amethyst jewellery, but how about going and mining for your own? Head to one of the three open-pit mines in the area and you can pick your own! Some of the mines offer self-guided tours where you can learn more about amethyst and the history of amethyst mining in Ontario.
Enjoy the Shores of Lake Superior
If you're looking for family fun combined with gorgeous scenery and a dose of relaxation, you'll want to visit Chippewa Park! What all is there to do? Take a ride on the park's historic carousel and enjoy some of the midway's attractions. Soak up the summer sun and maybe build a sandcastle or two at Sandy Beach. Enjoy a picnic as you overlook the largest of the Great Lakes. It's a great spot to spend an afternoon with the family. Plans are already being made as Chippewa Park celebrates its centennial birthday in 2021!
Visit a Craft Brewery
Hold on now, you're probably wondering how a brewery is ending up on a family-friendly list of things to do in Thunder Bay. Well, Sleeping Giant Brewing Company prides itself on welcoming customers of all ages. It might seem strange to bring your child into a brewery, but they're always welcome while Mom and Dad enjoy a beer or two. SGBC also runs family-friendly events throughout the year around holidays like Easter, Halloween, Christmas and more! You'll want to keep them on your radar or at least pop by to grab a beer or two to go which you can always enjoy from the comfort of your hotel room or campground.
Hunt for Views of the Sleeping Giant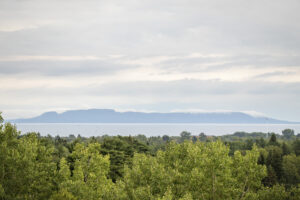 You can't miss the iconic shape of the Sibley Peninsula as you look over the water in Thunder Bay. There are a number of great places to enjoy the beauty of Lake Superior in the city. Take a waterfront stroll along Prince Arthur's Landing and Marina Park as you enjoy the gorgeous views with the Sleeping Giant as your backdrop. Or if you're really feeling adventurous, you can try and hike to the Top of the Giant by heading to Sleeping Giant Provincial Park. Be warned though, this is one seriously tough hike!
Stay in a Hotel Fit for a Queen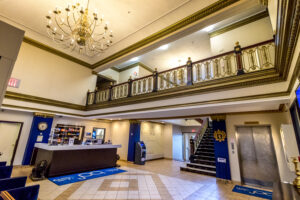 That's right, the Prince Arthur Waterfront Hotel was the accommodation of choice when Queen Elizabeth II visited Thunder Bay many years ago. She's even left her mark as they had to adapt one of the hotel rooms to fit her security requirements! Head to the parking lot and see if you can spot which window is not like the others. Or if you're lucky, you just might end up in that room on the third floor!
There are plenty of reasons to stay at the Prince Arthur as its full of character. Be sure to ask about Thunder Bay's infamous tunnels which were used to smuggle alcohol during prohibition. The kids might not be as interested in the history as the parents but who doesn't want to see a secret tunnel?!
Planning a Trip to Thunder Bay Yet?
This is just scratching the surface of what the area has to offer! There are plenty of great activities in Thunder Bay that you'll be planning another trip in no time. If you need a few more ideas…
Indulge in Thunder Bay's famous dessert – the Persian! Don't worry, we're talking donuts here – not people.

If you encounter a rainy day during your trip to Thunder Bay, enjoy one of the great indoor attractions like the Thunder Bay Art Gallery or the Centennial Botanical Conservatory

Enjoy incredible views of Lake Superior and Thunder Bay from Anemkii Wajiw also known as Mount McKay

Don't miss visiting the Terry Fox Memorial along the Trans Canada Highway just before you enter the city from the south.

If you're a cheese lover, check out the Thunder Oak Cheese Farm for the only gouda created in Ontario.

Or check out

this article for even more things to do in Thunder Bay

!
Are you ready to hit the open road and head north? Be sure to check out Thunder Bay Tourism's website for more information. Until then, which of these activities would you do first during your next visit to Thunder Bay?