Ripley's Believe it or Not!
Welcome to Ripley's Believe it or Not!, the perfect destination for groups of all ages.
With over 400 amazing exhibits, Ripley's will introduce your students to a mix of history, science, geography, mathematics and art as they explore the unusual and bizarre. Engage with interactive displays, puzzles and illusions to discovering the history of the Berlin Wall & Niagara Daredevils.
Our goal & commitment is to promote a unique educational experience while at the same time providing an environment where learning outside the classroom is truly unbelievably Fun.
Group/Operator rates available. Open year round.
CONTACT: Anne Marie Cammelli – 905-356-2238 x 2783 | nfgroups@ripleys.com
WEBSITE: www.ripleys.com/niagarafalls/
LOCATION: 5651 River Road, Niagara Falls, ON L2E 7M7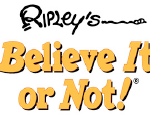 Min Group Size: None
Max Group Size: 200 Participants
Length: Varies
Subject Areas: History, Science, Geography, Math and Arts