Oh Canada Eh? Dinner Theatre
CELEBRATE CANADA'S 150TH BY BRINGING CANADA TO THE CLASSROOM!
Canada's Longest Running Dinner Musical!
This two-hour, all-Canadian production features over 65 songs including French-Canadian and Maritime folk songs, classic rock and modern pop hits from artists like Stompin' Tom Connors, Celine Dion, Shania Twain, Justin Bieber and many more.
Singing Lumber Jacks, a Hockey Player, Anne of Green Gables and a Mountie interact with students tableside as they serve our five-course, family-style meal throughout each performance. Vegetarian, nut-free, gluten-free and dairy-free menu options are available (with notice). Educator Study Guides available.
Matinee and Evening performance options.
Ask about our Winter Musicals – live on stage from November through April!
CONTACT: Ricarda Romain, 1-800-467-2071 ext. 2
WEBSITE: www.ohcanadaeh.com
LOCATION: 8585 Lundy's Lane, Niagara Falls ON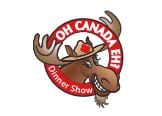 Min Group Size: 15 Participants
Max Group Size: 250 Participants
Length: 2.75 hours
Subject Areas: History, Geography/Social Studies, Arts, Other