Blue Mountain, Ontario's largest mountain village resort, is nestled on the shores of Southern Georgian Bay and spans across the beautiful Niagara Escarpment. Blue Mountain has evolved into a true four-season destination, and continually ranks among the top family-friendly resorts in Canada.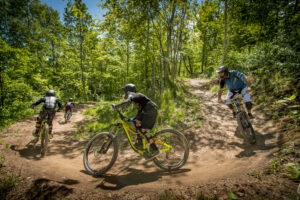 MOUNTAIN BIKING
Blue Mountain is home to some of Ontario's best bike trails. Start off on the flowing singletrack, and work your way up to the technical downhill descents. We'll provide lifts to the top of the trailheads, and you can enjoy the magnificent views of Georgian Bay and the surrounding region.
Grow stronger and reach new heights as you scale and overcome our Climbing Wall. Become a natural in no time with everything you need to succeed including modern climbing equipment. Bring previous wall climbing experience or come as a beginner for an opportunity to reach the top of Blue Mountain.
OPEN-AIR GONDOLA
Come with a perfect day in mind and plan it out en route with 360 degree views of everything as you approach the top. The open air gondola provides perfect pictures for avid planners as it gently rises to the picnic areas and scenic lookouts above. Cameras welcome.
CANOE AND KAYAK
Experience a gentle paddle down the Beaver River in your canoe or kayak and get in touch with nature.
BLUE MOUNTAIN BEACH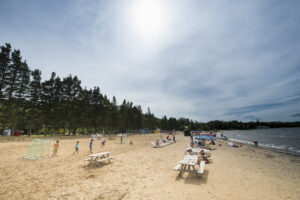 Just 10-minutes from the resort awaits our private beach on the shores of Georgian Bay. Dip your toes in the shallow waters and wade in the surf or venture a little deeper with a boat rental; canoes, kayaks and stand up paddle boards are all available to rent at Blue Mountain Beach. Take advantage of comfort stations, complete with change rooms and complimentary towel service for overnight guests.
Prefer to stay on dry land? The beach is equipped with kid-friendly climbers and sports equipment to ensure everyone's beach day has the right mix of sun and fun. Complete your beach experience with lunch at our Beach Hut, featuring a fresh selection of prepare cold food choices like sandwiches and salads, and cold drinks.
Access to the beach is complimentary for overnight guests of Blue Mountain Resort and we recommend relying on our courtesy shuttle to take you to and from the beach as parking is limited. Shuttles run every half hour, seven days a week, during high season**. Day visitors and guests not staying at Blue Mountain Resort may access the beach at a rate of $29 per car load (maximum of 8 guests per car) after 3pm daily.
APEX BAGJUMP
Take a leap of faith on the Apex Bagjump. Work your way up to the maximum height of 6.5 metres (21 ft) and prepare for a free fall onto the airbag waiting below. Satisfy your inner thrill seeker with the ultimate adrenaline rush!
CANOPY CLIMB NET ADVENTURE -COMING SOON
Experience the Ultimate Treefort
Catch up on fun as you scramble from tree to tree high above the forest floor. Suspended rope nets, slides, treehouses and watch tower provide the perfect setting for the treefort of your dreams. Spend your day playing in the canopy on Blue Mountain's newest adventure attraction, opening this July.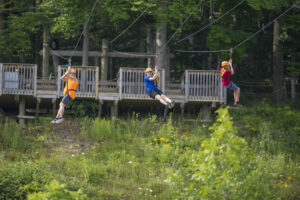 WIND RIDER TRIPLE ZIPS
Embark on an aerial adventure as you pilot from platform to platform at a cruising altitude of 50 feet. Zip Lining will give you an extraordinary perspective on the outdoors as you experience the freedom of flight. Come alone for a private adrenaline rush or bring co-pilots for a memorable ride along parallel Zip Lines.
RIDGE RUNNER MOUNTAIN COASTER
Glide along 1km of track and tour the terrain – or turn it into a thrill ride at speeds up to 42 KM/H. Ridge Runner is a simple and equipment free favorite among all ages. We'll keep you on track but as with most things at Blue Mountain you are the driver.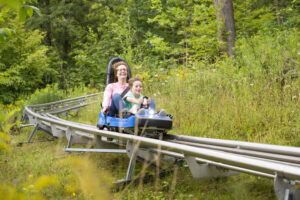 CASCADE PUTTING COURSE
18 Holes. Endless Traps, Hazards, and Triumphs.
Kids and adults can test their golfing skills at the Cascade Putting Course. Cascade offers bunkers and water hazards just like a full-size course, but on a smaller scale. Situated at the base of the Niagara Escarpment, this 18-hole, par-67 putting course is landscaped with a limestone backdrop, waterfalls and inspiring features that highlight the beauty of the natural surroundings and panoramic views.
PLUNGE! AQUATIC CENTRE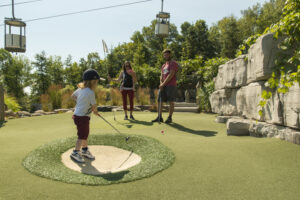 Relax in the hot tubs or on the dock where you can watch your kids invent whole new water games with help from the rope swings, docks, and water slides. Indoor and outdoor swimming pools and an indoor water playground make Plunge popular in all seasons with swimmers of all ages. Come for refreshing family fun and leave rested and ready for your next Blue Mountain adventure.
SPAS AT BLUE MOUNTAIN
IWA SPA
Iwa Spa is a full service wellness spa, offering a wide range of wellness inspired services, creative spa packages, a boutique loaded with amazing products, and a truly one of a kind yoga practice in the warm volcanic rock studio (ganban-yoku). Our vision is to Inspire Wellness Always (I.W.A.) – we do that with every interaction our guests have with the spa, from a custom built pedicure bench using stainless steel vessels to the ability to select your preferred music in room, to how our welcoming and friendly staff make you feel. Awarded Canada's Top New Spa 2015 and Luxury Spa of the Year, Ontario. Open at 10am daily.
SCANDINAVE SPA™ BLUE MOUNTAIN
Come for the renowned Scandinavian Baths experience at our award-winning Scandinave Spa™ Blue Mountain. Situated in a serene natural forest with an on-site bistro serving healthy local fare, we offer registered massage treatments and relaxing getaway packages. Our Baths include a Finnish Sauna, Eucalyptus Steam Room, Thermal & Nordic Waterfalls, Hot Baths, Cold Plunges & relaxation areas. Just minutes from downtown Collingwood & Blue Mountain Resort, we are open all year from 9am-9pm, baths open at 10am.
KALOLA WELLNESS SPA
Renew your Energy at Kalola Wellness Spa
Inspired by our natural surroundings, Kalola focuses on the simplicity of nature, embracing the natural elements and incorporating the four seasons into all aspects, from treatments to interior finishes. Natural and organic textures, rich colours, rustic woods and atmospheric lighting seamlessly blend with the views of the surrounding mountains to create an environment of peace and tranquility. Kalola Spa is truly whole body wellness at the mountain.
GLAMA GAL TWEEN BOUTIQUE
Tweens will be inspired to live the Glama Gal motto ("Be Confident! Be Positive! Be You!") at our trendy Blue Mountain Village Boutique.
Bring your tween to be pampered, supported, and encouraged to embrace the Glama Gal motto.
WINTER ACTIVITIES
TERRAIN
Elevation: 720 feet
Skiable Acres: 364 acres / 147 hectares
TRAIL SYSTEM
Trails: 42 named trails
Night Trails: 30 lit night trails
Longest Run: Gord's Groove – 1.6km (1 mile)
SNOW
Snowmaking: 360 acres / 145 hectares
LIFT SYSTEM
Summer Gondola: 1
High-Speed Six: 5
Quad: 1
Triple: 1
Surface Lifts: 4
Uphill Capacity: 26,750 per hour
BLUE MOUNTAIN SNOWPARKS
GROVE
Our new progression park is home to an assortment of features where you'll be able to develop the foundation of your freestyle skills. A valid lift ticket or Season Pass, and a helmet are required at all times to access The Grove.
Located at the bottom of the Butternut trail, and accessible from the Orchard Express chair.
BADLANDS
Make your way to The Badlands where you'll find larger jumps and rails to continue progressing your skills. A valid lift ticket or Season Pass, Park Pass and helmet are required at all times.
Located on the Fall Line trail, and accessible from the Orchard Express chair.
L-PARK
L-Park marks the third addition to Blue Mountain's freestyle terrain. Located on L-Hill, L-Park is comprised of small to medium snow features designed to stoke a lifelong passion for freestyle skiing or riding. Valid Season Pass or lift ticket, and helmet required to enter.
Located on Centennial at the top of L-Hill, and accessible from the Silver Bullet chair.
HIKE N' TUBE
Snow tubing provides guests with a genuine downhill experience without the speed and equipment associated with skiing and snowboarding. Tubing offers old-fashioned winter fun for the entire family and gives all participants a gentle introduction to the Blue Mountain slopes. Join the thousands of other guests who have discovered the distinct joy of snow tubing.
WOODVIEW MOUNTAINTOP SKATING
Sharpen your skates and cruise on our 1.1km ice skating loop while enjoying extraordinary views along the Niagara Escarpment. Ice skate rentals are available and all skill levels are welcome. After you skate, relax with a hot chocolate while enjoying the beauty of Blue Mountain.
This new attraction is located at the top of the mountain between Orchard Express and Southern Comfort.